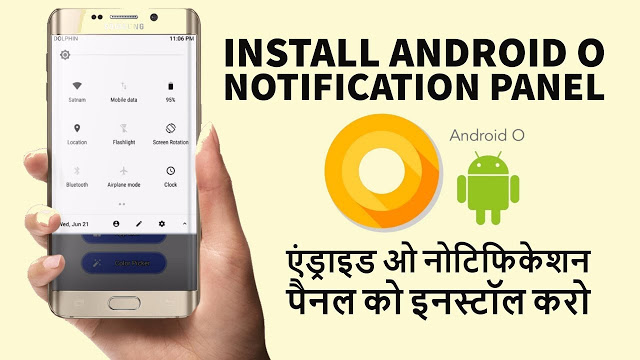 Install Android O Status Bar:
Hello Viewers!!! This video is about How to change status bar or notification panel of any android to Android O. Install Android O Status Bar on any Android Phone, Android O Notification Panel For Android Device and please don't forget to Like, Share, Comment and Subscribe to our Techno Vedant Channel for more videos.

Material Status Bar is the first Android app to give you a tinted status bar with Material Design look and feel.
It supports all devices running Android 4.0 – 7.0 and is intended to be a full-featured status bar.

Features
◉ Three theme styles: Lollipop, Gradient, and Flat (iOS)
You can choose to have the newest and sweetest theming of colors with a darker accent,
Or, if prefer use Flat Design to match iOS 9 in terms of aesthetics.

◉ Notification Panel with different themes
Tablet – ready design.

◉ Material Design
Feel the vibe of the most exciting design language in every app you go.

◉ Colorization/ tinting for every app
Tint your experience everywhere you go.

◉ Notifications
Read your notifications right from your notification panel.

◉ Brightness slider and Auto-Brightness
◉ Color Picker
◉ Auto-hide in full screen mode
◉ Auto-start when phone powers on
◉ Battery Percent
◉ 12 and 24 Hour Format
◉ Going to have way more features

For more information see the Help & About section inside the app.
Please note that this is a beta version and should be treated as such. But it's definitely fully working.

*Disclamer: This app does not use, copy or mirror any protected content and registered trademarks.

Music By:-
Fat Caps by Audionautix is licensed under a Creative Commons Attribution license (https://creativecommons.org/licenses/by/4.0/)
Artist: http://audionautix.com/

Note :- All the Images/Pictures shown in this video belongs to the respected owners. I am not the owner of any Images/Pictures showed in this video.


Ask Question #technovedant
Click to SUBSCRIBE for more Videos!
Please Like, Comment, Share and Subscribe THANK YOU!