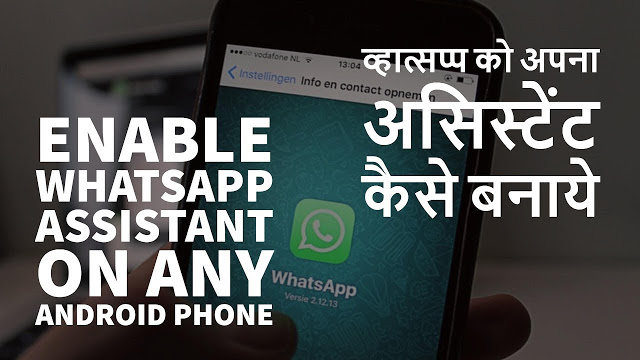 How to Enable WhatsApp Assistant:
Hey Guys! Still WhatsApp assistant is under development stage, but you can use this assistant right now and receive the future update on a daily basis and what WhatsApp assistant do for this continue watch this video. In this video, i will show you how to Enable the feature of assistant in Whatsapp! This is the full tutorial, watch the full video to know every feature. How to Enable WhatsApp Assistant on any Android smartphone (2017 New WhatsApp Hidden Trick) and please don't forget to Like, Share, Comment and Subscribe to our Techno Vedant Channel for more videos.

More WhatsApp Tricks by Techno Vedant:-

Best 7 Cool New Whatsapp Tricks You Should Try Hindi/Urdu April 2017 – https://goo.gl/BDbmfK

How To Know Who Can See My Whatsapp Profile Picture and Status In Hindi/Urdu April 2017 – https://goo.gl/bYBVnB

How to Install 5 Whatsapp 4 Whatsapp Accounts On One Android Phone Without Rooting 2017 Hindi/Urdu – https://goo.gl/kIYkZp

Assistant 1 – 8105984514
Assistant 2 – 7397739604
Assistant 3 – 9042068491
Assistant 4 – 8015989606

Music By:-
Fat Caps by Audionautix is licensed under a Creative Commons Attribution license (https://creativecommons.org/licenses/by/4.0/)
Artist: http://audionautix.com/
Ask Question #technovedant
Click to SUBSCRIBE for more Videos!
Please Like, Comment, Share and Subscribe THANK YOU!